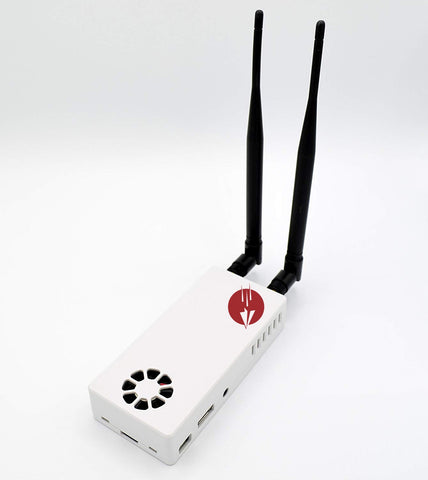 FlightBox Plus: Dual-band ADS-B, Internal GPS, AHRS, Altimeter
In-Flight Weather, Traffic, AHRS, Altitude & GPS Receiver
All the features of the Stratus 3 at half the price!
Includes:
Dual-Band ADS-B Receiver

Internal WAAS GPS Receiver

3-axis attitude sensor (AHRS)

Precision barometric pressure sensor (altitude)

High-gain 978 MHz and 1090 MHz antennas

Dual-port 4.8 amp power adapter
3' 3" (1 meter) USB power cable 

1 year warranty
Overview:
FlightBox Plus is an in-flight weather and traffic receiver with integrated WAAS GPS, AHRS (attitude sensors) and pressure altimeter. It receives ADS-B data over both the UAT 978 MHz band and the 1090-ES band, with support for uplink weather and traffic data from FAA ground towers and for direct ship-to-ship traffic from both 1090-ES and UAT-equipped aircraft.
Functions:
ADS-B Weather
ADS-B Traffic
WAAS GPS
AHRS (Attitude / Synthetic Vision)
Barometric Altimeter
Features:
Weather: METARs, TAFs, AIRMETs, SIGMETs, PIREPs, winds / temps aloft

Flight Data: TFRs, NOTAMs, special use airspace updates

Traffic: Direct traffic from all ADS-B Out equipped aircraft. Rebroadcast traffic from FAA ground towers*

GPS: WAAS-capable GPS provides precise position, altitude, ground speed, ground track, vertical speed, and rate of turn to your EFB or EFIS

AHRS: Attitude sensor provides accurate pitch and roll information to drive virtual attitude indicators and synthetic vision features

Barometric Altimeter: provides highly accurate cabin pressure altitude

Works with: ForeFlight, WingX Pro, Droid EFB, FlyQ EFB, Appareo Insights, iFly GPS, FltPlan Go, Avare, Naviator, AvNave, AvPlan EFB, OzRunways, True Flight, iFlightPlanner, and most other EFB applications.
GPS: The integrated WAAS GPS is a 48 channel receiver capable of fixes as precise as 3 meters.
Note: FlightBox Plus is available in two configurations. This version uses an internal GPS receiver (the receiver and antenna are inside the box). We also offer a version with a remote GPS receiver (the GPS receiver and antenna connect to the box using a 5' USB cable).
AHRS: The integrated AHRS sensor system provides a simple, accurate backup to your onboard attitude indicator or EFIS and drives the synthetic vision feature in EFB applications including ForeFlight. Our cutting-edge algorithm allows you to orient the FlightBox to any major axis of the aircraft. This means you can mount it on a bulkhead or hang it upside down and still get valid pitch and roll data. The sensors also provide G-force and slip / skid data.
Altimeter: The onboard barometric pressure sensor serves as a highly accurate backup altitude source in unpressurized aircraft, and as a cabin pressure sensor in pressurized aircraft.
One Year Warranty: All factory assembled FlightBox systems come with a one year warranty and one year of technical support.

Options / Add-Ons
Power: FlightBox Plus includes a three foot USB power cable and a dual-port 12v / 24v cigarette lighter adapter capable of simultaneously powering the FlightBox and charging a tablet.
For fully portable use, connect FlightBox Plus to any standard USB battery pack. A wide range of USB packs are available from Amazon and other resellers. A typical 10,000 mAh USB pack will provide up to 10 hours of operation.
For additional details and product specifications, please see the FlightBox product page. This product is covered by the Open Flight Solutions warranty.
* The FAA currently requires an ADS-B Out signal to trigger the transmission of ADS-B traffic rebroadcast (TIS-B / ADS-R). If your aircraft is not ADS-B Out equipped, your view of traffic will be limited. ADS-B traffic is advisory only.
 ** Please note that Open Flight Solutions is not affiliated with or endorse by this application vendor. Interoperability has been independently confirmed by third party users of the software.
---
We Also Recommend